There is always something to do in the City of Beeville from shopping with your friends, spending the day getting pampered to hanging out at the local sports bar or bowling alley with family & friends or how about enjoying quiet time with a good book at our local library.
Family Entertainment and activities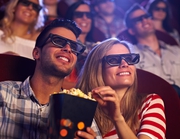 Rio 6 Cinema- Movie and popcorn! Choose from 6 different movies. Call 361-358-9373 for more information. Located at 806 E. Houston Street.  
Bee Family Fun Center- Get your bowl on! The Bee Family Fun Center offers 12 bowling lanes, snack bar, including alcoholic drinks and video games. Go back in time to the land of dinosaurs with the dinosaur themed putt putt golf. Open daily. Call for more information at 361-358-5959. Located at 3900 N. St. Mary's Street.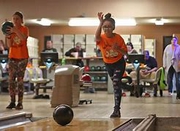 Beeville Art Museum- The Beeville Art Museum, created in 2000 by the Joe Barnhart Foundation, is dedicated to the enrichment of the educational and cultural life of Beeville and surrounding communities through the concept of art and art education as a positive force in developing creative skills and thought. Housed in a graceful Victorian-style house, built in 1910, the museum is surrounded by a public park for the community to enjoy. Call for more information at 361-358-8615. Located at 401 E. Fannin Street.  
The Flournoy Park-  This park is adorned with a butterfly garden, walking trail, children's playground, and skate board park. Amenities include sun shaded picnic tables and restrooms. Located at N. Washington and E. Huntington Street.
Veterans Memorial Park- The park's amenities include the Municipal Golf Course, disc golf, baseball fields, picnic areas, and play structures, and the Bee County Veteran's memorial. Located at 601 N. Minnesota Street.  
Coastal Bend College Exercise Track- The exercise track offers a 1 1/2 mile looping track that's robust with Texas scenery and wildlife. Located at 3800 Charco Road.   
Joe Barnhart Bee County Library- The library offers classes in the arts, technology, and literature; a wide array of books and resources. Located downtown at 110 W. Corpus Christi Street.  
Downtown vendor markets every 4th Saturday of the month from 9-4pm. Located downtown at 299 W. Hefferman and 217 W. Bowie Streets.
Bees of Bee County - Take a little cruise and find all the Bees of Bee County. Each bee art sculpture was purchased privately to support the Coastal Bend College Foundation's fundraiser project. Each bee was uniquely designed and has a story to tell. How many can you find? 
Events
Texas Mile-  Bi-annual event, March and October. The Texas Mile is a land speed auto racing event in Beeville, Texas, at the Chase Field Industrial Complex. Participants, amateur and professional alike, from across the globe test their fastest standing 1-mile speeds in a wide range of vehicles. www.theusmileracing.com Located at the Chase Field Industrial and Airport Complex, 2745 Byrd. Street. 
Western Week- First Weekend in October. The Western Week Celebration in a Bee County tradition. The event hosts 5K run, parade, rodeo, carnival, food vendors, music and so much more. Contact the Bee County Chamber of Commerce for more information at 361-358-3267. https://www.facebook.com/BeeCountyWesternWeek/
Nightlife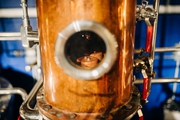 Coastal Bend Distillery- located downtown at 201 N. Madison Street. Tour the distillery and visit the Tasting Room. Tours of the distillery are scheduled and available to the public during special distillery events. Live music, events and games scheduled throughout the month. http://www.coastalbenddistillingco.com/   Located downtown at 201 N. Madison Street. 
La Linea Wine Bar- La Linea offer wines from Texas, California, and other parts of the world. Wine not your thing? They have sodas and beer also. Local musicians perform weekly. Located downtown at 211 W. Bowie Street.